Call for Submissions: The History of Soviet Central Asia in 100 Objects
Friday 27th August 2021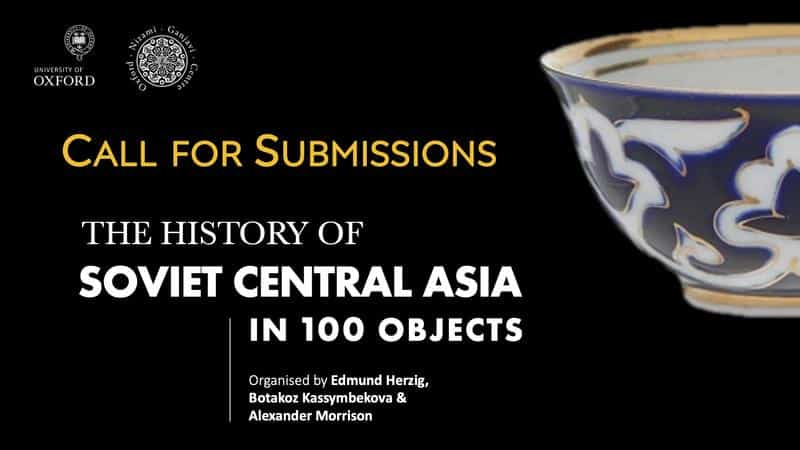 About the Exhibition
"The History of Soviet Central Asia in 100 Objects" is an online museum exhibition project that aims to convey histories of Soviet Central Asia through material objects. Inspired by Neil Macgregor's "A History of the World in 100 objects", the exhibition aims to open up the field of Soviet Central Asian studies to the general public, but also enrich the historical narrative of the Soviet past in Central Asia through material objects and their "biographies."
The online exhibition will present 100 material objects, which are presented as a lens to tell stories of a particular period, idea, experience or event. The objects will be arranged chronologically so that they cover the whole Soviet period, highlighting the specificity of each historical and geographic context. Each object will be commented by a historian from the field of Soviet Central Asian studies. The accompanying commentary will draw upon personal, family, regional and all-Soviet histories, in some cases exploring the literary resonances or artistic inspiration for a particular object, whilst also explaining how it was produced, used and preserved.
We aim to bring together complex and polyphonic narratives of the period and its collapse from so far unlikely angles, such as through history of clothing and food. We also welcome objects that reflect history of migration, interconnectedness to other regions, of fluidity of borders and belongings, uncovering multicultural and global dimensions. Beyond such historical and visual analysis, we expect exhibition entries to draw attention to mentions of particular objects in literature, and examine their resonance in contemporary Central Asian culture.
The exhibition's opening in 2021 will mark the thirtieth anniversary of the demise of the Soviet Union and presents/celebrates diverse historical research of the Soviet period in the region. In addition, our exhibition will feature narratives with "ordinary" people and their experiences of the Soviet period and its collapse, including those who currently live but also who already left Central Asia, highlighting the temporal and biographical geography of the region.